BAMBA News April 2012
BAMBA News April 2012
Note from Eagle City Council member Mary Defayette:
Hello BAMBA Members:
I just wanted to provide a brief update on the exciting progress we have been making towards our goal of making the Eagle Bike Park a marquee recreational destination. As I mentioned before, the City of Eagle committed to make a contribution of $8,000 towards the ongoing maintenance of the bike park once we signed a land use agreement with the county. I am happy to report that the city and county are very close to finalizing that agreement and we should be able to report final progress on that project within the next month. As part of that agreement, the City and our attorney have been working very close with the BAMBA board in crafting our overall maintenance strategy for the 2012 biking season.
At a high level, we have agreed that the contribution of $8,000 will be used to fund 1-2 part time trail coordinators and associated materials needed to perform basic trail maintenance at the park. One of the keystones of our strategy will be the volunteer process we are creating for groups like BAMBA to become involved in at the park. Once the agreement is in place, all trail projects will need to be coordinated with our trail managers. This means if you want to do trail maintenance, have trail improvement ideas or simply want to donate time and/or materials, you can meet with a coordinator, explain your ideas and work out a plan to get that project done. There are several benefits to working with our trail coordinator(s).
The overall quality and consistency of trail maintenance will improve since the trail coordinator(s) will have a park-wide maintenance plan and will be able to prioritize your proposed project into the overall plan
No duplication of projects will occur since each project will be coordinated through one channel
IMBA guidelines will be followed which will raise the level of safety and trail quality at the park
Speaking of volunteering, if you want to get a head start on making a difference at the park, please email the trail coordinator(s) at trails@eaglebikepark.org
Also, the budget process for the City will be taking place this summer and if the Eagle Sports Complex is close to your heart, it's imperative that the Council hears it from YOU! We'll keep you posted on times and dates for public testimony on funding this jewel.
Thanks again for all you have done to make the Eagle Bike Park a great cycling destination. I look forward to a great 2012 season!
Best regards,

Mary Defayette
Eagle Bike Park Trail Maintenance Day
When: April 21, 2012 (9am-2pm)
Where: Eagle Bike Park (Utility Shed near the skate park)
Hey cyclists, it's that time of year again when we need to focus on fixing the wrath mother nature (and those who rode when it was muddy) has wrought on our trail system.
BAMBA will be hosting a trail work day April 21, 2012 from 9am till 2pm to fix erosion, improve drainage, and shape and adjust jumps on the freeride lines. We will be breaking into several groups to address as many different areas of the park as possible. Crew leaders with experience to lead small crews will be greatly appreciated.
So come out and give some love back to the trails you love to ride! Please bring a shovel as we may be limited on tools.
Please RSVP by emailing the trail coordinators at trails@eaglebikepark.org
Upcoming Events at the Eagle Bike Park:
We have several events coming up at the Eagle Bike Park including races from the Velopark Grand Prix and Wild Rockies. The YMCA is also doing their Off Road Sprint Triathlon out there in May. Visit the Eagle Bike Park website for an update on ways to get involved:
http://eaglebikepark.org/upcoming-events/
Movie Fundraiser – Anthill Film "Strength in Numbers"
The BAMBA board is currently planning our next movie fundraiser for Thursday May 10th. We will be premiering "Strength in Numbers". More details will be coming soon but here is a quick teaser to get everyone stoked about the event: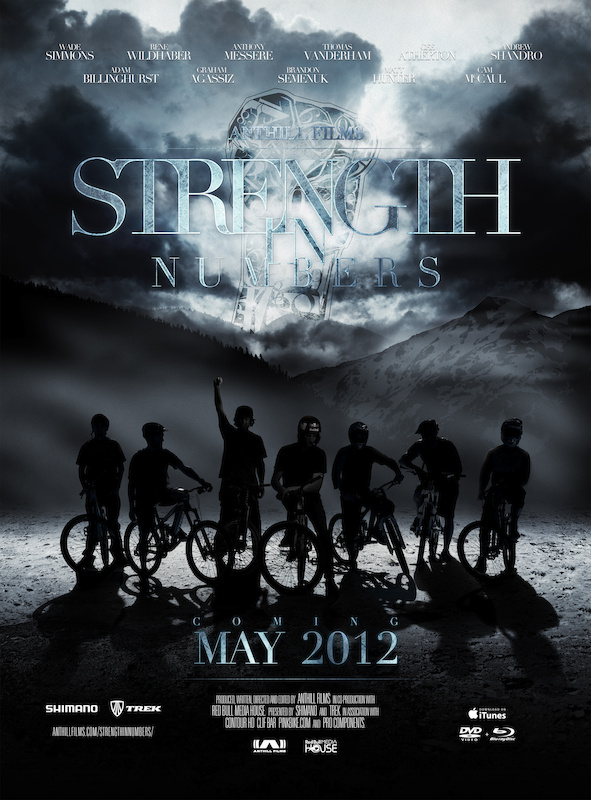 http://www.pinkbike.com/news/Strength-in-Numbers-Official-Trailer-2012.html
Planned rides:
Sign-up at: http://groups.google.com/group/bamba-rides?hl=en to receive BAMBA Ride notifications
Stay in touch!
Visit http://eaglebikepark.org/ for news and events.
If you Facebook, you can Like us at: Eagle Bike Park